Different Styles, and features of the Hard Shell and Soft Shell Roof Top Tents – Which is the best option for your platform?
If you are looking for rooftop tent options on the 4Runner or for many other platforms… you want to read this first.
Rooftop tents can be a great investment for those who spend a lot of time outdoors. They have been around the world far longer than they have been trending on social media and offer great advantages to long-distance explorers and weekend warriors alike.
Currently, they are broken into two main categories:
Hardshell tents
Softshell tents
Below, we will break down the different styles of both hard and soft shell tents and discuss their features, construction, and day to day usability.
Hard Shell Roof Top Tents
Hard shell roof top tents are made of a hardened material on the top and bottom of that when closed form a protective layer over the soft siding and bedding sandwiched within.
They come in two main styles:
They can be opened either mechanically with a crank or with an assisted mechanism such as a pressurized gas strut.
To form the outer shell layer, the preferred materials in production are fiberglass and aluminum.
The Wedge Style
The wedge style allows for more interior length space, as the lifting mechanism is less complicated thus requiring less room.
The tent is hinged at the front (foot) allowing for a high ceiling at the head.
Great for taller users and those who like more headroom.
Also, because of the shape, they tend to fair better in bad weather by diverting wind and shedding rain and snow.
The Pop-up Style
The pop-up style allows for more vertical space as the whole upper half of the shell is raised equally.
This makes the interior space more usable for a shelter as two people can comfortably sit up inside it on opposite sides of the tent.
They also tend to be shorter in length because they don't need to compensate for the lack of interior space at one end like the hinged model does.
Types of hard shell materials
Fiberglass
Fiberglass allows for a lightweight shell that is strong enough to withstand punishment on the road and on the trail. While they are structurally very strong, they are susceptible to cracking if impacted from another object such as a tree limb on a trail. And while fiberglass cracking is fixable, it can be costly.
Aluminum
Aluminum is also very strong but able to withstand much greater impacts without cracking or tearing compared to its fiberglass counterpart.
That additional strength comes with the compromise of additional weight, a big negative mark for an accessory that is mounted so high on the vehicle.
Types of lifting mechanisms
Mechanical lifts
Mechanical lifts are a very reliable way to raise the tent because the mechanical linkages are robust and are less prone to failure.
Due to the same robustness and the ability to hand tension the soft fabric, they are able to withstand harsher weather conditions.
Also, because they are mechanical, they can support more weight from storage on the upper shell.
Gas assist lifts
Gas assist lifts are very convenient for quick efficient tent setup.
They allow for minimal effort in raising the upper shell while conserving interior space because the smaller linkages involved.
They can fall short in very cold weather where their deployment times are reduced and pressures may not be high enough to keep the tent fabric tight.
Living with/in a hard shell tent

When arriving at camp, setting up the hard shell roof top tent is a very simple task that takes one person no more than five minutes including the ladder and removing the interior tensioners, regardless of make or model.
In reverse, take down is also a very simple task that takes five to ten minutes for one person, and a little less for two. Even in bad weather, take down is doable with one person.
Living space is very comfortable, with a thicker mattress than most soft shell variants, but comes at a premium because the mattress space is fixed.
Overall, the tent is quieter to sleep in because of the lesser amount of fabric, making for a better night's sleep. It also has better insulating properties than soft shell tents, keeping it warmer in winter weather and cooler in direct sunlight.
The ladders that come with many hard shell roof top tents either hang or lean on the side of the tent as a separate unit. The ladders themselves vary by brand and model, as do their designs and specifications.
Most will support a healthy man without any issues, but can feel flimsy compared to aftermarket telescoping ladders that can be purchased separately (example aftermarket ladder featured here).
Aftermarket ladders tend to have higher weight ratings and will feel more stable when climbing up for the night.
When driving (4Runner), the hard shell tent makes the interior slightly noisier, equivalent to a ski rack. Fuel mileage will be affected for highway driving due to the added drag, but due to the generally more streamlined design of most hard shell rooftop tents, it will be less affected than a soft shell tent.
Pros and Cons of the Hard Shell Roof Top Tents
Positive attributes
Sturdy in all weather conditions
Easy to set up and take down
More durable outer shell
Ability to store all bedding materials inside the tent
Low profile design improves fuel mileage
Ability to add accessories directly to the tent (some models)
Optional storage on top (some models)
Negative attributes
Expensive initial cost
Uses a lot of roof space
Smaller mattress size to footprint ratio
Best suited for vehicles with a larger roof area or bed space
Standard ladders tend to feel flimsy, requiring a sturdier aftermarket solution
Trail Choice / Pop-up Hard Shell: Autohome Maggiolina Extreme ($3,099.00)
The Autohome line of roof top tents is one of the longest running product lines in the field. Their heritage and knowledge of how to design and produce a roof top tent is shown in the quality of their product.
The Maggiolina line uses a fiberglass shell and a mechanical "crank-style" lifting system, with the exception of the lighter weight Airtop model. With the Extreme model, the addition of a loadable roof rack adds storage to otherwise lost space on top of the tent, up to 55 additional pounds, making it suitable for additional fuel, traction boards, or camping equipment.
Weighing in at 145 pounds (small) / 152 pounds (medium), the Extreme is a light weight but robust option that is easy enough to be moved on and off of a vehicle with two people. This lighter weight build means the overall center of gravity for the vehicle it's installed on will be lower making it more suitable for off-road applications.
The small variant comfortably fits two people (6'0" or less), with the slightly wider medium size being more suitable for larger users or those with a small child or dog. With the full pop-up design, there is enough interior space for two adults to sit upright across from each other when weather conditions make being outside unfavorable.
The Maggiolina features a 3.5" closed cell memory foam mattress lined with a removable fabric sleeve, and can be paired with an anti-condensation mat for low condensation convenience.
The high angle design of the upper shell means there is enough interior space when closed to store all of the bedding and the ladder to free up interior space in the vehicle.
An interior light mounted to the upper liner is convenient for reading or being able to see the inside of the tent at night.
They are weather resistant but the breathable exterior fabric makes for very comfortable conditions in the tent. It incorporates side facing entry points that double as screenable windows and small screened windows at the front and back of the tent.
In warmer weather the fabric breathes well, keeping the interior cooler. In moderate winds and cold conditions, the fabric is able to keep the weather out, providing a safe shelter from the elements.
Autohome also offers a winter shell that can be installed for ultimate winter weather protection.
Interior storage comes in the form of side pockets close to the "rear" of the tent, making storage of personal items accessible. An overhead storage net at the "front" of the tent makes for an easy place to stash extra blankets and clothes when sleeping and a good place to clip an additional interior light.
Autohome has proven to the traveling world over decades of use that they have truly perfected the tent building design.
The overall build quality and features of the Autohome Maggiolina Extreme push it to be the Trail Choice in its category.
For more information on the Autohome Maggiolina Extreme, click here.
Trail Choice / Wedge Hard Shell: Alu-Cab Expedition III ($3,999.99)
A South African company, Alu-Cab is no new entry to the vehicle-based expedition market. They have produced a number of variations of wedge-shaped living spaces including full roof replacements for overseas Land Cruisers and Defenders. The Expedition III is the first US available roof top tent offering from the company, and it comes with a number of great features.
Its aluminum shell and gas-assisted wedge style lift make it optimal for easy and convenient deployment in record-setting times. Undo two rear located latches, and push up on the handle for tent set-up in less than a minute.
The protected gas struts do a good job putting tension on the fabric, keeping it taught in windy conditions.
The Expedition III includes side entry points, as well as a larger covered rear entry point. The cover for the rear door provides protection from precipitation and sun, doubling as a storm door for more unfavorable conditions.
The fabric for the outer shell is made of a waterproof ripstop material, making it a top contender for camping in bad weather conditions. Paired with the wedge shape, this tent can deal with high winds and precipitation with ease.
The shell is insulated on the top and bottom with a foam layer to keep conditions inside the tent comfortable.
The 3" thick memory foam mattress provides enough cushion for a comfortable night's sleep, and is wrapped with a removable fabric liner.
Storage on the inside of the upper shell in the form of pockets provide enough storage for personal items in the tent, and overhead built in lighting helps keep things visible at night.
The aluminum shell provides a lot of flexibility for additional accessories.
Awnings, recovery tools and lights can be bolted to the exterior of the shell without compromising structural or environmental integrity – a huge plus for a market based around customization and accessories.
The built in rails on top of the tent provide more than enough space for whatever you need to take on your trips. Kayaks, mountain bikes, fuel, firewood. All can be attached to the Alu-Cab's rack system, eliminating the loss of storage space, one of the biggest downfalls to roof top tents in general.
The only drawback to the Expedition III is its weight and size. Longer and wider than most root top tent options, it will take up a large portion of roof space for most common vehicle platforms.
That use of space is offset by the previously mentioned cargo space on top of the tent, but it limits the vehicles that it can be installed on without looking out of place.
The weight at 200 pounds is also worth mentioning because it is so high up on the vehicle. It's not a limiting characteristic, but it is certainly something to consider.
Overall the Alu-Cab Expedition III is an impressive platform in its category, with a number of important and customizable features that make it a great option for sleeping outside.
Notable mention: Go Fast Camper (GFC) Roof Top Tent ($3,499.99)
A new to the market product, this wedge style rooftop tent features an extruded aluminum frame and a rackless mounting system that makes it the most low profile hard shell tent on the market. It has a 4Runner specific mounting rail system, eliminating the need for an aftermarket roof rack and saving weight up top.
It is similar to the Alu-Cab in its accessory addition capabilities utilizing the exterior frame rails as mounting points. This means add-ons without the need to drill, and the flexibility to change arrangement and positioning as needed.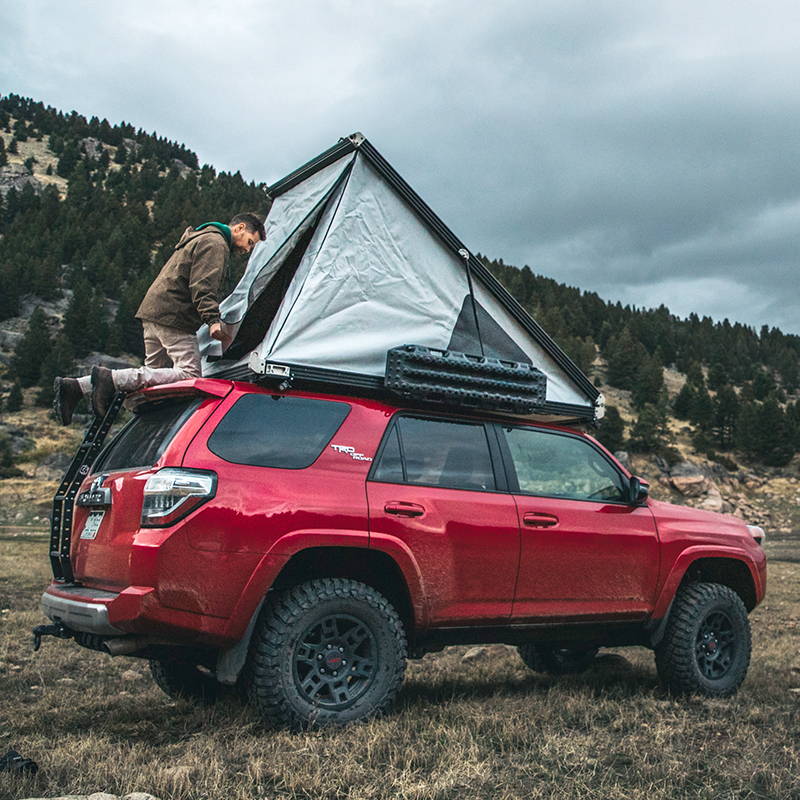 Time will tell where this tent falls in the market, but its initial offerings make it a very promising option to consider.
UPDATE: We now have a full review and overview of this rooftop tent. If you are wondering what this rooftop tent is all about, check out the 10 reasons Brenan loves this Rooftop tent.
Soft Shell Roof Top Tents
Soft shell tents are a great option for those getting into the roof top tent world. They offer a lot of useable interior space for their relative packed size, and are a more affordable option than their hard shell kin.
A soft shell tent consists of a hardened floor, usually with a mattress included, and an overhead shelter made from a fabric material and a folding support structure. Both styles typically feature a manual unfolding procedure by expanding the frame until the fabric is taught, although some are available with an electronically assisted mechanism.
When stored, they are covered with a waterproof canvas or PVC based material to keep the tent fabric safe from road-going conditions.
They come in two main styles:
The Bi-fold Style
The bi-fold style of soft shell tent is the most common design where the whole tent, when stowed, is sandwiched between the bottom plates.
This means that when deployed, the useable area is double the stored area. This is a great design feature for those who need a lot of interior space, or have smaller vehicles.
This fold-over design also supports a protected ladder "overhang" on some models, meaning entrance to the tent is from underneath (protected) versus from the outside (exposed). When setting up, the "sandwich" is unfolded and in the same process the supporting mechanism for the fabric is pulled into position, tightening the fabric into shape.
This makes tent set-up very simple and convenient. However, the take-down and stowing process can be more difficult because of the amount of fabric being stuffed inside, and the soft outer cover. The weight of the overhanging portion of the tent is supported by the ladder itself.
The ladder is attached to the outer edge, and is locked into place when extended to support both the person climbing up, and the people in the tent already. These ladders tend to have a stronger structure due to their constant weight load.
The Pull-up Style
The pull-up style doesn't fold the bottom plates like the bi-fold.
Instead, just the roof supports are pulled up, and the fabric tight to make the overhead shelter. Freespirit Recreation pioneered this design with their Adventure series.
The mattress and useable area are the same both when stored and deployed, similar to the hard shell types. Because of the use of less fabric material, these tents are much simpler to stow in their soft protective covers.
The pull-up style tent will use a ladder more similar to the hard shell tents that leans on the outer edge of the base. They are subject to the same complaints, and are often replaced with aftermarket solutions.
Fabric materials
Most soft shell tents are comprised of a breathable but waterproof main fabric and a water proof heavier rainfly material to keep the majority of wind and rain out of the tent. Heavy fabric materials are used to cover the collapsed tent when in transit. Across a few different brands and models the materials found are as follows.
Main tent fabric: a breathable but waterproof main fabric, typically 280g or higher (thicker) polyester rip-stop material. Higher end tents will have heavier, more durable main fabrics.
Rainfly fabric: a water/weatherproof 420D polyester oxford material that can be installed or removed based on conditions. Higher end tents will have heavier, more durable rainfly fabrics.
Cover fabric: a sealed and ruggedized waterproof PVC cover with weather sealed zippers.
Notable features
Additional accessories for the soft shell tents make them very customizable. The most popular addition being an attachable annex that hangs from the side of the tent and extends to the ground. This additional space encloses the ladder and creates an additional "room" useable for everything from an extra bed to stowing wet gear. This increases the already robust amount of usable space protected from the elements.
See the stars with some of the models available on the market being equipped with clear or screened roof materials. This unique to soft shell tent feature can be great for kids and stargazers alike.
Raised covers for windows using spring loaded rods allow for the windows to be partially opened when raining, and for protection from overhead sun. These window shades are not exclusive to soft shell tents, but they are more common.
Living with/in a soft shell tent
Soft shell tents can be deployed with relative ease by one person by unzipping the cover, and folding over/up the overhead structure.
One problematic issue caused by the bi-fold style tent is the need to find a parking space that can accommodate an overhanging structure off the side or rear of the vehicle. Taking down the tents can be more labor intensive because of the amount of fabric involved, usually requiring two people to complete the task. The reinstallation of the PVC cover is a common stumbling point and point of frustration with soft top tent owners.
Once deployed however, the spacious interior provides space from between two and six people depending on brand and model. Due to the design, interior space isn't limited to the stowed dimensions for the bi-fold style tents.
This is a great plus for larger families wanting to sleep in the same space. With mattresses ranging from two to three inches of high density foam, there is more than enough material there for a comfortable night's sleep.
Most models allow the sleeping material to be left inside the tent when closed, creating more available space in the vehicle.
Soft shell tents can be more problematic in bad weather, especially wind, due to their mostly fabric construction, and larger surface area. They can be staked down using guy-wires to help control tent movement in wind, but ultimately in bad conditions the tent will become very noisy and hard to sleep in.
In wet weather, the main problem comes when the weatherproof fabric becomes less waterproof over time, soaking in water as opposed to shedding it. Once this happens, the only recourse is to let the fabric dry in warm weather with the tent deployed.
On the road, the "brick" shaped soft shell tent is much more noticeable because of the increased drag caused by the larger exposed surface area. The block shape is much more noticeable with either a head or cross wind. The pull up style tent does have a thinner packed profile than the bi-fold style tent, making the problem less prevalent.
Pros and Cons of Soft Sheel Roof Top Tents
Positive attributes
More affordable entry pricing
Easy to set up
Lots of interior space
Lighter in overall weight
Able to fit a greater number of vehicles due to the smaller footprint
Able to attach a full annex for additional interior space
Most models are able to store all bedding material inside when in transit
Negative attributes
Clumsy and difficult to take down and pack into the cover
Noisy in windy conditions
Can become waterlogged if improperly maintained
Easier to rip or tear
Causes a lot of drag on the highway
Materials will wear at a more rapid rate because of the primarily fabric construction
Reduced reliability because of the number of linkages and moving parts
Can be heavy depending on brand and model, 150-250lbs
Trail Choice / Soft Shell Tent: Tepui Ruggedized Series Autana ($2,550.00)
Based in Santa Cruz, Tepui offers a number of soft shell root top tent variations, and a few hard shell options. The Autana 3 is a very well sorted tent, and the Ruggedized Series version makes it even better.
More on the upgrades that the Ruggedized Series brings in a bit. For two to three people or two adults and two kids, the Autana 3 is a great fit and is available in a larger version for those with the need for more room. And the standard annex makes for more usable space.
The tent comes equipped with an overhang style entry point, bringing the user into the tent from below rather than outside. A great feature when it's raining as it gives the user protection from the elements.
With the annex installed, the overhang provides an enclosed space at the base of the ladder that is perfect for storing extra gear or escaping mosquitos at the end of the day.
The tent features a rugged telescoping ladder to support the outer weight of the tent and can be adjusted for vehicle height or terrain.
The Autana comes with a 2.5"high-density mattress with a removable sleeve. This mattress paired with an ability to store the user's bedding means they're in for a comfortable night's sleep.
The standard anti-condensation mat under the mattress will help reduce the amount of interior water build up on cold nights. Inside the tent, there are a number of storage pockets and available accessories to store and use gear.
With the rainfly attached and the stiffer than standard rainfly supports installed, the tent is safer from stormy weather and able to resist heavier rains.
Remove the same rainfly and enjoy the view to the stars through it's standard SKY panels in the upper portion of the tent.
These screened panels allow great summertime ventilation and will certainly keep kids and adults entertained while watching the sky.
Unzip the window panels on both sides along with the SKY panels, and the tent really opens up for warm nights or daytime enjoyment.
This Ruggedized version of the standard Autana includes a heavier 360g Polyester Cotton and 600D Polyester Rip Stop fabric for the main body, and a 420D Polyester Oxford fabric for the rainfly. As claimed, a 40% thicker material than the standard tent.
It also includes heavier duty frame supports, rainfly supports, PVC cover and an aluminum base plate on both "halves" of the tent. All of these items add up to make a very tough example of a roof top tent.
Perfect for those who want or need a tougher tent, able to withstand the demands of a trail vehicle. This ruggedization comes with a weight increase from 150 pounds to 195 pounds, including the annex.
The Tepui team made a well thought out and tough product that can handle the elements, available in three color options. For a soft top tent, this model will provide the user with many years of adventures under the stars.
For more information on the Tepui Ruggedized Autana, click here.
Closing thoughts
With roof top tents showing up on more vehicles and in more remote places, it is safe to say that there is a big demand for sleeping higher up.
The varying designs and price points make investing easy to fit personal preferences, needs and budgets.
Regardless of which style or brand works best for you, be sure to choose a high quality and reputable tent for your needs.
There's nothing worse than a bad night's sleep, especially in the great outdoors.